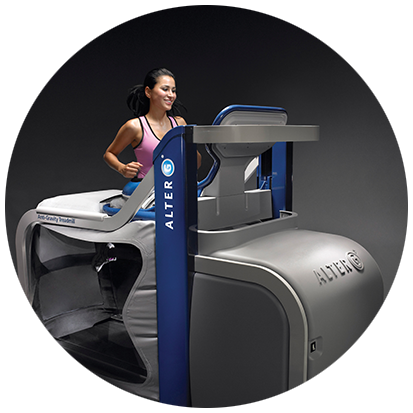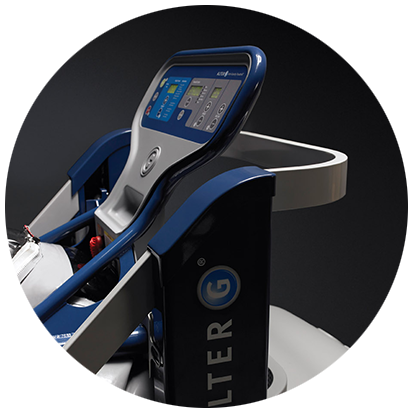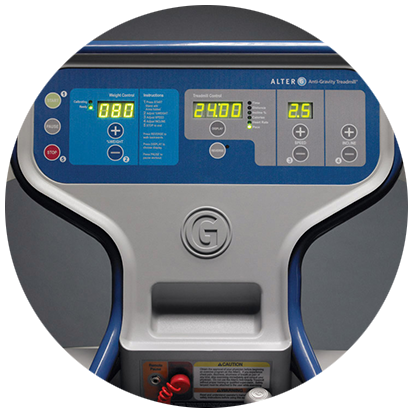 GET MOVING AND DEFY GRAVITY®
Unleash your body's potential with the AlterG® Anti-Gravity Treadmill®
Get the results you want by having a more comfortable and effective training and exercise tool using patented NASA body weight support technology.
"The AlterG is the most significant advance in training equipment for distance runners in the last half century." – Amby Burfoot, Editor at Large , Runners World
THE MOST INNOVATIVE TRAINING EQUIPMENT AVAILABLE
With the groundbreaking AlterG Anti-Gravity Treadmill, you can experience cardiovascular and lower body training like none other. Whether it's practicing walking, trying to lose weight or training harder, the AlterG maximizes effectiveness by:
Enabling adjustable impact while walking or running
Allows for gradual progression of exercise
Minimizing the jarring forces that can lead to injury
WHAT DOES THE ALTER-G DO?
Using NASA patented Differential Air Pressure technology, the AlterG: comfortably supports you and "unweights" you by as much as 80% (adjustable in 1% increments). This uniquely adjustable unweighting can accomplish so much:
Significantly and precisely reduces ground reaction forces
Helps minimize discomfort and encourages movement
Creates a safe environment to work on technique
Allows for an increase in training volume with less impact
USE THE SAME EQUIPMENT THE PRO'S USE
The leading choice to get the body moving and keep the human machine functioning optimally. Elite athletes, professional sports teams and top facilities have chosen the AlterG as an essential component of their training and recovery programs. From world class marathoners to the LA Lakers, the Chicago Bears to the Boston Red Sox, trainers and sports medicine professionals use the AlterG to get out-of-this-world results. Nothing compares to the Anti-Gravity Technology of the AlterG.
Our revolutionary Anti-Gravity Treadmill is used by the world's best athletes, universities and sports teams
"I think it's the best piece of equipment made for running in the last 30 years, the most revolutionary piece of equipment, without a doubt!"
– Alberto Salazar Director of Nike Oregon Project American Running Legend