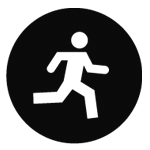 RUNNING
Did you know that all stress fractures can be identified early as periosteal stress syndrome, easily seen with particular areas of tenderness? What tests at the hip will determine the likelihood of developing 'Runners Knee'? How does your Big Toe mobility affect achilles tendinitis?
A running specific screen is designed for runners who want to run faster with less risk of injury. It will identify any physical limitations or technical flaws that may be holding the runner back from achieving their full potential.
Who would benefit from a run screen?
New/Beginner runners who are looking to start running safely, reduce their risk of injury, get advice on how to start training and good running form
Runners who have had injuries or recurring niggles from running, and looking to identify the source of their problem or any contributing facts that could be
Competitive runners looking to improve performance and running pace trough technical improvements and exercises to improve running specific strength
What the screening process involves
Thorough history taking to identify any areas of previous injury, current training volume, and future training and racing goals
Physical assessment of your range of motion and  functional strength, specific to th requirements for optimal running
Real time biomechanical treadmill assessment and video analysis
Running specific exercise prescription and running technique advice and cueing to improve your running efficiency
We don't want to treat your injury!  We have done that before… a lot.
Our experience with endurance athletes has repeatedly demonstrated that most injuries could have been avoided if they were identified much earlier.
As an athlete, we can help you become aware of small signs that an injury is around the corner, allowing you to avoid it rather than lose precious training time.
Our screening protocol is designed specifically for you, the endurance athlete.
Utilising the latest information in athlete screening, our testing aims to identify any possible injury precursors so that you don't lose any training time to injury. Once identified, we can advise you on how to best manage the issue, whether it be through equipment modification or corrective exercise. We consult directly with your coaches to minimise disruption to your training goals.